Rightmove Update
1st February 2018
Asking prices down 1.4% in London this month as sellers tempt New Year buyers
New-to-market sellers drop asking prices by 1.4% (-£8,819) this month to tempt New Year buyers
Property coming to market now an average of 3.5% (-£21,618) cheaper than a year ago as London continues to re-adjust to over-stretched affordability and slower momentum
Annual falls in the price of newly-marketed property are not London-wide, with falling prices largely concentrated in three Transport for London Zones:

Largest annual falls are in Zone 2 (-6.4%) and Zone 3 (-7.7%), the two most expensive Zones after Zone 1, where prices are currently flat (+0.1%)
Zone 5 falls by a modest 0.7%, while Zone 4 (+0.8%) and Zone 6 (+2.3%) see the largest rises

Overview
New-to-the-market sellers have taken heed of the tougher London environment, and have launched their properties onto the market at prices 1.4% (-£8,819) cheaper than those of the previous month. They will be hoping that buyers are returning to the market after the Christmas break, as they normally do, and that they can tempt them with cheaper pricing.
Miles Shipside, Rightmove director and housing market analyst comments: "In a bout of realism rather than the usual New Year optimism, the latest crop of sellers to come to market are an average of £8,819 cheaper than those who came to market the month before. They will be hoping that their prices are pitched at the right level to tempt the flurry of buyers who appear after the seasonal break."
Property coming to market is now an average of 3.5% (-£21,618) cheaper than a year ago as London continues to re-adjust following several years of rapid price rises. However, it is important to note that falls in new seller asking prices are not London-wide. Rightmove has analysed the average price of property coming to market in Transport for London Zones 1 to 6, and as one would expect, the closer you get to the centre the higher the average property price, with the exception of Zone 6. Zone 2 (-6.4%) and Zone 3 (-7.7%) have seen the largest falls. In Zone 1 it seems that sellers have chosen to stay off the market rather than drop their prices with the average price static at +0.1% but new listings down by 17.4% compared to the same month a year ago.
Shipside observes: "Half of the six TfL Zones are in positive annual price territory, indicating that the price fall malaise is not London – wide and re-emphasising the fact that the capital is made up of a myriad of local markets. Sellers in Zone 1 can afford to defer their sell until market condition are more favourable, helping to maintain the status quo in the price of newly – marketed property, with the average still hovering close to £1.3 million. However, Zone 2 (average £704,591) and Zone 3 (average £564,050) are suffering the most as buyers and sellers in these relatively cheaper areas are more adversely affected by over stretched affordability and uncertainty. While Zone 5 has also dropped marginally year-on-year, it is property in Zones 2 and 3 that has been the biggest contributor to London's 3.5% annual fall."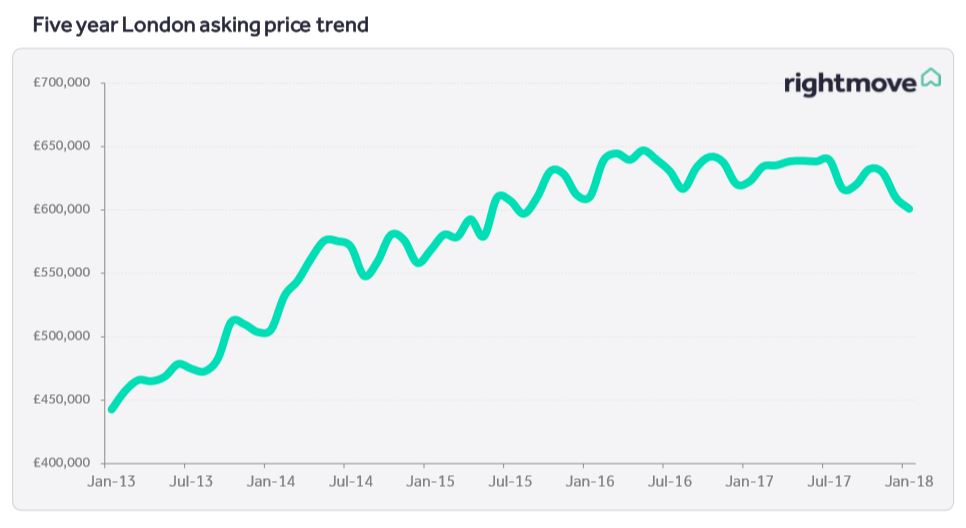 Transport for London zones